"You make the best scones!" my son's fiancée said. I gave her a big hug!
I do love to make scones. but it does take a certain knack. Mostly I've learned through trial and error, so I hope to pass my scone making expertise on to you as I share it with my "daughter-in-love" to be.
When making scones there are two important things to remember:  First, don't overwork the dough. You want to knead it just enough to combine the ingredients. The less the dough is fussed with, the higher the scones will rise, so just knead the ingredients together until they form a rough ball of dough. Second, remember to roll the dough out nice and thick about one and a fourth to one and a half inches. The thicker the dough, the higher the scone. And that's really all there is to it. The mastery of these two steps will make nice tender scones with ample room for your favorite jam or jelly.
Mini-Chocolate Chip Scones
Ingredients:
3 ½ cups all-purpose flour
6 Tbsp sugar
5 tsp baking powder
1/2 tsp Kosher salt
2/3 cup firm butter
2 large eggs, beaten
1 tsp vanilla extract
½ cup heavy whipping cream or half and half
1 cup mini semi-sweet chocolate morsels
1 Pre-heat oven to 400 degrees. Line a baking sheet with parchment paper or use a silpat (silicone) baking sheet.
2. In a large bowl, mix flour, 6 Tbsp sugar, baking powder, semi-sweet morsels, and Kosher salt together with a wire whisk.
3. Next, cut the butter into the flour mixture using a pastry blender or two knives until the mixture resembles fine crumbs. Set aside.
4. In a separate bowl, mix the wet ingredients. First beat the eggs with a fork, then stir in the cream and vanilla and mix with a wire whisk.
5. Add the wet ingredients to the dry ingredients and stir together with a big enamel or wooden spoon. Then, using your hands, bring the dough together into a ball. The liquid measurements are pretty accurate, but if the ingredients won't hold together, add a half teaspoon of cream at a time until they do. Lightly knead the dough until it holds together. Do not overwork.
6.  If you're making wedges, divide your dough into fourths. Place 2 fourths on one cookie sheet, and 2 fourths on another. Pat or roll the dough out into 1 1/2 inch thick rounds. Cut each round into 8 wedges with a knife that has been dipped in flour. Do not separate the wedges. If you prefer individual rounds, roll your dough out and cut with a biscuit cutter or a small to medium drinking glass.
7. When placing the scones on a cookie sheet make sure you don't crowd them. Give them plenty of room to "breathe" while they're baking. Brush the tops with heavy cream or half and half. Sprinkle with large crystal sugar.
8. Bake 14 to 18 minutes or until lightly golden brown. Remove to serving platter. Serve warm.
The photos below were for cream scones, but I wanted to show you the consistency of the dough.
By Jill Novak
I remember when I first fell in love with tea. I was a little girl sitting at my mother's kitchen table, sipping a cup of English Breakfast Tea with a liberal amount of cream and sugar. It wasn't a tea party per se but the memory of that blissful concoction stayed with me through the years until I had daughters of my own. Girlhood and teatime just seem to go together don't they?
Serving tea to family and friends has become second nature for me and my daughters. Taking time out of our busy schedules to minister this lovely repast is a "soul satisfying" experience. We especially enjoy blessing others with a strong pot of English Breakfast Tea–cream and sugar of course–and mini-chocolate chip scones topped with raspberry jam – such a heavenly blend of flavors.
Over the years, I have come to learn that the act of "taking tea" is synonymous with spiritual renewal. You can visibly see the stress drain from a weary one's face when you offer a cup of fragrant tea. Heart-felt conversation comes more naturally when two or more are happily sipping from their favorite teacup or sampling a delicious finger sandwich or scone. Many a word of encouragement can be shared in this relaxed and inviting atmosphere.
The tea table doesn't have to be overly fancy or elegant, but acquiring new accessories can be a source of pleasure for all who gather round. Teacups, teapots, creamers, sugars bowls, teaspoons, napkins, and tablecloths can all be purchased for modest prices from antique stores or yard sales. Eclectic collections are just as esthetically pleasing as matched sets.
There is an antique mall in our town called Twice as Nice. The girls and I love perusing the different vendor's booths for tea related items. One day we happened upon eight tiny gold teaspoons to add to our collection. They are so delicate and add such a lovely touch to our teatime celebrations. It's hard for a guest not to feel special when using such teatime finery. I think that's why ladies, young and old, find teatime so special. It ministers to the feminine soul.
Instituting a weekly teatime ritual is a wonderful way to enrich your children's lives (don't forget, boys like teatime, too). We love to sip tea and read aloud excerpts from The Girlhood Home Companion or listen to the monthly audio conversations from The Mother~Daughter Tea Cozy Club. Some of our most treasured memories are the lessons we've gleaned from other Christians as shared in the pages of these precious publications. Hearts are more receptive when the pace of life is slowed and everyone can relax and enjoy one another.
Our passion for teatime has "spilled over" into the lives of our customers as well. Recently a mother shared with me how her young daughters were inspired to don aprons and serve tea for the first time because of the variety of recipes featured in The Girlhood Home Companion and The Mother~Daughter Tea Cozy Club. It makes us so happy to see other families begin teatime traditions of their own!
The April Mother~Daughter Tea Cozy Club features an audio interview with Lisa Steigerwalt, The Girlhood Home Companion's resident Home Economist and Certified Etiquette Consultant. Lisa shares the benefits of establishing a weekly teatime ritual in your home. You can listen to this wonderful interview here.
Audio clip: Adobe Flash Player (version 9 or above) is required to play this audio clip. Download the latest version here. You also need to have JavaScript enabled in your browser.
An April Tea Cozy interview with Lisa Steigerwalt.
It is the beginning of a series of 12 months of The Mother~Daughter Tea Cozy Club. The rest of the booklet is available for purchase below.
The Mother~Daughter Tea Cozy Club is available in single issues or a 12 month bundle.
The Girlhood Home  Companion is available in single issues or in beautiful back issue Treasury Albums.
Merry CHRISTmas! We're sharing a complimentary download of the "Pink Peppermint Pie" tutorial from
The December Tea Cozy Club
with you.  Click on the picture to open the PDF.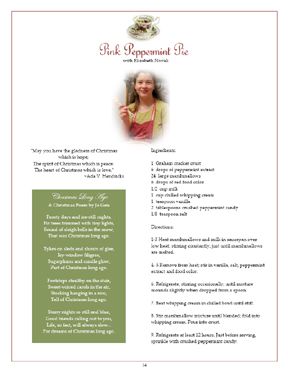 Order your copy of the Tea Cozy Club Booklet and audio conversation on CD "The Gingerbread Cottage of Faith" with Heather Wombacher here .
We're extending free shipping through the 20th for Christmas delivery.
Dear Mothers, Daughters, and Grandmothers,
I love autumn. I think it is possibly my most favorite season of the year as the harvest takes center stage in one of nature's grandest productions. Familiar aromas tantalize the senses, and the changing foliage turns the landscape into a riotous feast for the eyes. Vibrant mums, decorative pumpkins, and rustling cornstalks frame doorways, while falling leaves cover neighborhood yards with confetti-like carpets of red, yellow and orange. Feathery goldenrod and delicate purple asters add a splash of color to nearby fields, and within weeks the whole countryside takes on a golden hue.
October is the month when our focus turns to preparing our homes for the long winter months ahead. The cooler temperatures draw the family inside and the kitchen becomes the center of comfort. Whether served up in steaming pots of soup or slathered on a pieces of thickly sliced homemade bread, nurturing foods abound as autumn ushers forth.
The pears gathered at the end of September have finally ripened and pear butter time begins. Scurrying about like squirrels, we hurry to "put up" our precious jars of preserves. With grateful hearts, we celebrate God's goodness as yet another precious jar of pear butter is added to the pantry shelf. Yes, autumn is a time when you surely reap what you have sowed, and sometimes what others have sowed as well.
My children have learned the diplomatic art asking neighbors if they can pick their unwanted fruit in trade for a jar of amber colored pear butter. The neighbors couldn't be happier to contribute, and the children couldn't be happier to spread the rich gooey preserves on English muffins or toast. The remaining fruit that isn't preserved will find its way to our tea table to be savored in sandwiches or deserts.
In this month's tea cozy, we share a variety of tea sandwiches and desserts made with pears, the golden fruit of autumn. Enjoy t
hese "pearfectly" delectable recipes and a cup of pear tea as you listen to this month's tea cozy conversation with Linda Stubbs of Prairie Flower Farm. Linda shares how her family participated in the Wichita Farmer's Market a few years ago, and how the Lord touched many lives through His bountiful provision.
We pray this installment of The Tea Cozy Club is a blessing to you and your daughter as you settle back and enjoy refreshment for both heart and soul. We thank God for His abundant blessings as we celebrate the harvest together with you.~  Jill Novak
Order your download of the October Tea Cozy installment and audio conversation here
May is here and how our hearts rejoice!  In our gardens the scilla and daffodils are already spent, but the lilacs and lily of the valley are just beginning to bloom. My rhubarb plant is flourishing and soon we will be making rhubarb scones for tea. Spring is a rich season of scents, textures, and colors that set our senses a whirl. How we wish it could last forever.
I especially love lily of the valley because my mother's maiden name was Konvalinka, which in Czechoslovakian   means, lily-of-the valley. Here at Pebbly Brook farm, we have a very special variety of lily of the valley growing in our flower beds; it's pink instead of white. There is only one supplier in all the world for the vendors who sell pink lily of the valley. I have included ordering information on page 11.
To the Victorians, lily of the valley meant purity and the return of happiness. The Hebrew word for purity is the word Taher which means: "To be clean, innocent and righteous." Let us remember, especially during this season of rebirth and growth, that God has robed us with the righteousness of Jesus Christ. He is the Way, the Truth and the Life and his atonement for our sins is the reason we rejoice.
This month's Tea Cozy Booklet features "A Tribute to Mimi." Martha Greene (of MarmeeDear & Co.) and I spent a lovely afternoon together talking about her mother, Elizabeth Gurganus, who recently went to be with the Lord. Elizabeth was a writer of poetry and a singer of hymns. Most of all, she preserved her spiritual heritage by keeping numerous journals over her lifetime. Join us for this inspirational Tea Cozy conversation.
Our featured teas of the month are Bigelow's Constant Comment® and Celestial Seasonings Tangerine Orange Zinger®. We also have a varied selection of delicious tea recipes made with orange zest or orange juice, plus avocado tea sandwiches, and a sumptuous leek and asparagus quiche tutorial. You will also find instructions for traditional and oil pie crusts. Enjoy!
From our tea table to yours – God's richest blessings! Jill Novak & Daughters
Single Download -$4.95
http://remembrancepressbookstore.com/collections/girlhood-tea-cozy-club/products/may-tea-cozy-club-booklet-and-audio-conversation
Here is the link for our March Tea Cozy "Live."
Audio clip: Adobe Flash Player (version 9 or above) is required to play this audio clip. Download the latest version here. You also need to have JavaScript enabled in your browser.
Links for donating to the Uganda Pastor's are below:
Join Us for a March Cup of Tea "LIVE"
From selling homemade apple pie to establishing a thriving quilting business with her daughter Emily, Brenda Ford has a heart for serving the Lord. You will be encouraged as she shares the many ways the Lord has faithfully met her family's needs by creatively using her homemaking skills and resources for His glory. Join us for a very special Tea Cozy Conversation "Live" this Thursday afternoon.
Hi Jill,
Thanks again for having me on. I trust the Lord will use it however He sees fit. Here are the links for the pastor's conference video and also how to give online to the pastors, plus the poem about traveling on your knees.Love,
Brenda Ford
"Traveling on My Knees" by Sandra Goodwin
Last night I took a journey to a land across the seas;
I did not go by boat or plane, I traveled on my knees.
I saw so many people there in deepest depths of sin,
But Jesus told me I should go, that there were souls to win.
But I said, "Jesus, I cannot go and work with such as these."
He answered quickly, "Yes you can by traveling on your knees."
He said, "You pray; I'll meet the need, you call and I will hear;
Be concerned about lost souls, of those both far and near."
And so I tried it, knelt in prayer, gave up some hours of ease;
I felt the Lord right by my side while traveling on my knees.
As I prayed on and saw souls saved and twisted bodies healed,
And saw God's workers strength renewed while laboring on the field.
I said, "Yes, Lord, I have a job, my desire thy will to please,
I can go and heed Thy call by traveling on my knees."
12:00 p.m. PST
1:00 p.m. WST
2:00 p.m. CST
3:00 p.m. EST
You can call in or listen on your computer!
To join the call register ahead of time with Talk Shoe:
http://www.talkshoe.com/talkshoe/web/main.jsp?pushNav=1&cmd=home
Next week at the scheduled time dial:
(724) 444-7444
Enter:  Call ID: 46016
If prompted for a pin, enter your phone number.
You can also listen on your computer at this link:
http://www.talkshoe.com/tc/46016
See you there!
Jill Novak
Here is the link to my conversation with Peggy Joyce Ruth author of Psalm 91: God's Umbrella of Protection.
Audio clip: Adobe Flash Player (version 9 or above) is required to play this audio clip. Download the latest version here. You also need to have JavaScript enabled in your browser.
Join us for a "Live" Tea Cozy conversation this Thursday afternoon, January 27th at
1:00 p.m. WST
2:00 p.m. CST
3:00 p.m. EST
We'll be sharing a cup of tea with Peggy Joyce Ruth, author of Psalm 91: God's Umbrella of Protection and learning how in her time of need, God made Peggy aware of His covenant Psalm for all believers.
You can call in or listen on your computer!
To join the call register ahead of time with Talk Shoe:
http://www.talkshoe.com/talkshoe/web/main.jsp?pushNav=1&cmd=home
Next week at the scheduled time dial:
(724) 444-7444
Enter:  Call ID: 46016
If prompted for a pin, enter your phone number.
You can also listen on your computer at this link:
http://www.talkshoe.com/tc/46016
See you there!
Jill Novak
Dear Mothers, Daughters and Grandmothers,
I was finishing up this month's tea cozy when I heard the weather report. We were in for a whopper of a storm – a good ol' fashioned "Midwest" snowstorm! The weather radio warned of 13 inches or more. For those of us who live in the Midwest, surviving snowy winters is not something we usually worry about. We seldom get ice storms, so it's usually just a matter of clearing the snow away, which for my husband is akin to a boyhood adventure (as long as the snow blower keeps working). After bravely battling the elements, Robert loves to nod off in the comfy love seat next to the wood stove – a sweet reward for all his effort to keep the snow in its proper place.
On the whole, you don't have to educate Midwesterners on how to prepare for cold weather. Part of getting our households in order is making sure that everyone's boots, gloves, and coats are ready – our winter arsenal against the cold. Still, for homebodies like us, the beauty of snow far outweighs its inconveniences. Snow is peaceful and calming, giving us the opportunity to slow our pace and reflect on life. And because of the limitations it places on us, we actually joyfully anticipate being snowbound every now and then.
The definition of anticipate is "to look forward to, especially with pleasure; expect." This month, my dear friend Shelley Noonan shares a beautiful analogy the Lord gave her concerning teatime and anticipating time with the Lord on a regular basis. Did you make it a goal to read the Bible more this year? How about setting goals to make positive changes in your daily routine? Did you anticipate making progress only to be disappointed with the results already?
Sometimes it's easy to set goals for the New Year, but within the first few weeks, slip back into old thought patterns and habits. How can we make the lasting changes we desire, especially in the area of reading God's word and spending time with Him? I think anticipation and preparation are some of the keys to meeting daily goals that will in turn become weekly, monthly, and yearly habits.
I pray you will begin to anticipate the open invitation the Lord has waiting for you each and every day from listening to this month's talk by Shelley. This months tea flavors are chocolate and vanilla, and I am happy to share a very special story behind my mother's Toffee Bar Cookie recipe, my extended family's favorite.
And what could be more appropriate than this month's flower than the snowdrop? The Snowdrop is from the Latin "nivalis," meaning "snowy." It is known as the "flower of hope" – a sign of life returning to the earth after the long winter months. I will be looking for our snowdrops to bloom somewhere around the middle of March, but until then, I look forward to sharing a special cup of tea with my daughters and you – around the fire, looking out at the snow.
Affectionately,
Jill Novak and Daughters
Order the January Tea Cozy here: http://remembrancepressbookstore.com/collections/girlhood-tea-cozy-club/products/january-tea-cozy-club-and-audio-conversation
…the Girlhood must get through.
As some of you know we are helping with my 92-year-old father's care. It has stretched us where we didn't know we had room to be stretched, but the Lord is so good. As they say, "The show must go on" or  "the mail must go through."
"Dear Jill,  I wanted to let you know that I received my order today.  I was so excited when I went to the mailbox and seen my package.  It felt just like Christmas! …It was well worth the wait.  I can hardly wait to finish my tasks for the day and sit down and enjoy my goodies.  Your work is truly a blessing to me and my family.  I have also been ordering some of the Tea Cozy's and I am so excited about them as well.  We are making a new tradition of once a month having tea together with my mother, my 11 year old daughter and myself. I am hoping to include my grandmother in some of these and am very excited about four generations of girls sitting down together for tea.  All of your items are God sent and I have quite the wish list.  May God bless you for the work you are doing.  My prayers are with you and your family as you are adjusting to your new life."
Sheila J.
Dear Mothers,
I'd like to share this sweet comment from one of our customers about last Spring's Girlhood Issue – Clothing Yourself in Beauty.
You never know what's hidden in your daughter's hearts. I love how tea etiquette was met with giggles of delight. The Girlhood Home Companion and Tea Cozy Club are a delight to mothers and daughters and a precious resource for teaching good manners.
"Hi Jill.
I really enjoyed speaking with you on the phone. It is nice to now have a "voice" to go along with the articles we enjoy in your magazine. Thank you, and your family, again for publishing such a quality publication. My daughter, Ella turned eight last March and we celebrated by having a tea party for her and 6 of her friends. We got our idea from reading Girlhood Home Companion, which we enjoy reading together during some of our special mother/daughter time. We set the table with beautiful cups, flowers, scones, grapes, and strawberries. When her friends came they all took their seats and while they enjoyed their tea I read about tea etiquette from the magazine. The girls enjoyed trying the correct and incorrect ways of holding their tea cups… with lots of giggles. I then read the storybook The Princess and the Kiss, it helped to keep those giggles under control a bit so they could enjoy their tea. After they finished their tea and had cake, we made Tussie Mussies using instructions from Girlhood Home Companion. They all did very well with just a little help from the adults. After their tussie mussies were ready, we made tissue paper flowers to fill them. The girls left with a beautiful craft to take home with them and we had a blessed time celebrating girlhood at my daughters birthday. Thank you for the wonderful ideas and encouragement."
Stacy Ott
This issue is available in Treasury Album, Number One. http://remembrancepressbookstore.com/collections/girlhood-back-issue-treasury-albums
Blessings,
Jill